Discover the little details about Žminj which will intrigue you!
IN ŽMINJ YOU CAN SLEEP ON HAY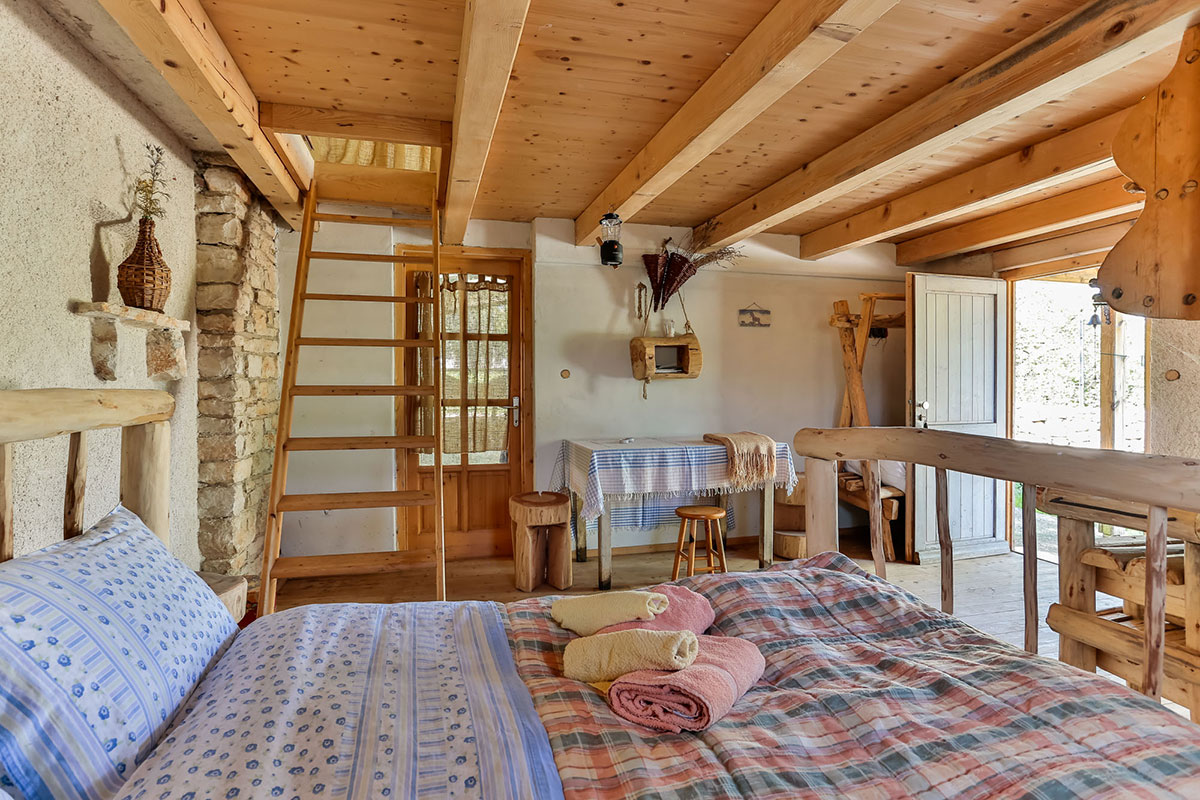 Sleeping on the hay overlooking chickens and donkeys, apartments without electricity, swimming pool in the middle of a vineyard and olive orchard, wooden walkway and a lookout perfect for sunsets, big outdoor chess… These are just part of what Casa Di Matiki has to offer, located in village Matiki. This is a B&B accommodation located just outside Žminj. Its owner, Sonja Glavić, is known for her rich breakfast prepared exclusively from local ingredients. This tempting meal includes: cheese, cottage cheese, fresh milk, sausages and butter, all from local producers, and scrambled eggs from their own eggs with some fresh Mediterranean herbs. Breakfast is served with seasonal fruits and vegetables and a piece of homemade pie or cake, as well as warm bread. Sonja wakes up each morning while her guests are still sleeping and rushes to Žminj to buy ingredients from local producers and then returns to Casa Matiki to prepare her specialties, which lure sleepy guests. According to TripAdvisor travel website, Casa di Matiki has been named the Best Bed & Breakfast Accommodation in Croatia in 2019.
CAVE "THE KINGDOM OF FESTINI" DISCOVERED BY ACCIDENT
Did you know that this cave, visited by numerous guests from all over the world, was discovered by accident? In 1930s Tone Božac, also known as "Frajtar", accidentally discovered the cave when planting his vineyard. While digging a hole, his "pikun" (pickaxe) fell into a pit. He tried to close the hole but did not succeed. Ten years later, during the Italian occupation, locals were seeking for shelter and opened the hole. According to oral tradition, the cave is named "kingdom" because children from the surrounding villages regularly visited the cave and later, when parents would ask them where they had been, they would answer they were in a kingdom. Unfortunately, the village of Festini experienced the same horrific fate of many Istrian villages, where adult men were killed during the war. Only Josip "Bepo" Božac, son of Frajtar, who hid in the cave, survived and saved himself.
Once, a tragicomic situation occurred, where a little donkey fell into the cave. Fortunately, he did not get hurt. The locals, as they were pulling him out, laughed how even the donkey visited the kingdom.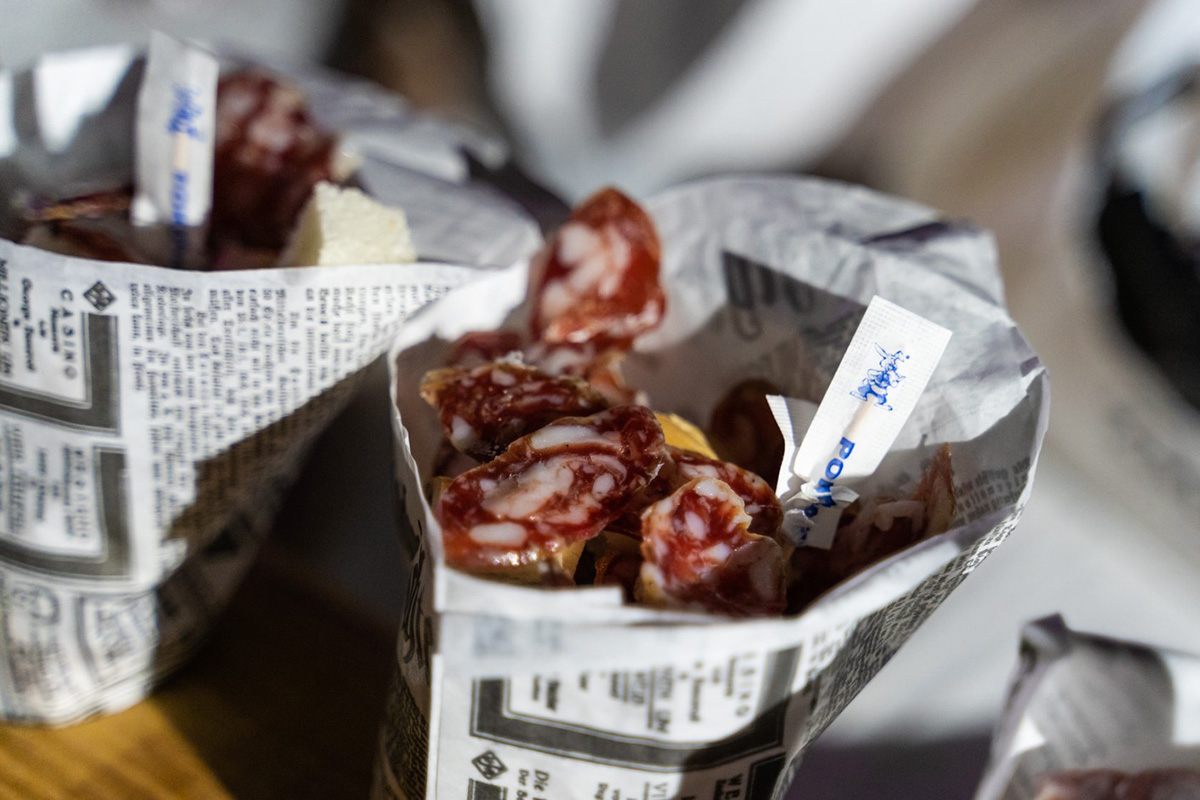 DO YOU KNOW WHAT Žminjski Škartoc / Sausage to go STANDS FOR?
Žminjski škartoc is a product from family agricultural holding "Žminjski gušti". You will also find it being called "sausage to go". Namely, its owner, Milan Udovičić, cuts dry sausages into thin salami pieces and adds bread cubes, making portions which are then packed into paper cones and ready to be enjoyed. The paper he uses is an imitation of the one used for newspapers, making it even more attractive and imaginative. Consumers are thus free to enjoy local pork products on the go.
DID YOU KNOW THAT ŽMINJ'S DIALECT IS PROTECTED?
Žminj's dialect is an intangible cultural asset of the Republic of Croatia. It was first protected in 2008. Our type of speech is passed on from generation to generation. We use it to write prosaic and poetic works and sing songs. It is nurtured even by our youngest generations: the children learn about it in Rapcici kindergarten and in Vladimir Gortan elementary school. Naturally, local people use it in their everyday speech. Žminj's dialect is known for its diphthongs where two vowels merge into one syllable. For example: liet, škarupuon, štuorija… Žminj's dialect belongs to the north-western Chakavian group of dialects and is among the oldest Istrian Slavic dialects.
DID YOU KNOW THAT THE CERE FOLKLORE ENSEMBLE IS THE OLDEST ONE IN ISTRIA?
The initiator of Cere folklore ensemble was Anton (Tone) Rudan – Starina, called "Domčić", from the village of Rudani. The formal commencement of the folklore activities can be traced back to 1945 and in the early days the ensemble was known under different name, "Seljačka sloga". Ensemble's first president was Anton Grgorovic from the village of Žgombini. He guided his ensemble in 1948 and 1949 at performances in Zagreb, Pula, Labin and Rijeka. In 1956 the ensemble began to use its current name and it was led by Đino Zanetić. Others such as Romano Božac, Božo Žgomba, Ivan Nini Božac also joined the folklore ensemble. Interestingly, they were the first in Istria to record a gramophone record of Istrian folk songs Pjesma i svirka iz Istre ("Song and music playing of Istria"). Their notable performances include those in Slovenia, Italy, Bulgaria, Belgium, Germany, Switzerland, France, Austria and, of course, Croatia.
DID YOU KNOW THAT THERE ARE 118 CHAPELS LOCATED IN ŽMINJ?
Žminj is proud to have as many as 118 chapels. These are located along roads, often at road intersections. They protect the passengers and represent the traveling Church, call for prayers and are erected to the saints or the Virgin Mary. The oldest chapel in Žminj area was built in the 18th century, namely in 1734, and is located in Pilj. The oldest chapel from the 19th century can be found in village Gorenji Orbanići and it was built in 1846. As many as 12 chapels were built in the first two decades, while none were built during World War II. Otherwise, it is not uncommon to have chapels erected in courtyards or near family houses. The chapels are often engraved with a Christian greeting, the year of construction, along with the name or initials of the person who built it. In 2018, book Žminjske kapelice: tihe čuvarice pučke pobožnosti ("Žminj's chapels: Silent Guardians of People's Piety") by author Nela Peteh saw the light of day. The book describes all 118 chapels, abounds with photographs, details on locations, materials used in the construction, dimensions, inscriptions and other interesting facts and stories regarding each chapel.
DID YOU KNOW THAT THE FIRST REPRESENTATION OF A MUSIC INSTRUMENT IN ISTRIAN WALL PAINTING IS LOCATED IN ŽMINJ?
In the church of St. Anthony in Žminj, frescoes show the coronation of Virgin Mary. Mary is sitting on an impressive throne and Christ is crowning her. There is also a moving scene where eight angels are surrounding them with instruments in their hands, representing the orchestra. They are playing psaltery, fiddle, mandore, portative organ, lute and tambourine. This is the oldest representation of musical instruments in Istria.
DID YOU KNOW THAT THE BIGGEST "PINCA" IN THE WORLD WAS BAKED IN ŽMINJ?
Did you know that the largest pinca, a traditional sweet bread usually made around Easter, was kneaded and baked right here in Žminj? Namely, as part of the manifestation Istrijanske pinci pod čerepnjon na ugnjišće, in the village of Paladnjaki, mrs. Zdenka Jakus kneaded a pinca which weighted 25 kg. This occurred in 2018 and next year she decided to break her own record. She succeeded! With the help of Miho Miličić, from the Agritourism Paladnjaki, and to the delight of numerous visitors, Zdenka baked another pinca weighing as much as 36 kg.
DO YOU KNOW WHERE THE TOPONYM "MODRUŠANI" COMES FROM?
Refugees affected by the Turks were coming to the Žminj region. The Turks conquered Lika and Krbava in 1528. They destroyed many settlements, including Modruš. Hence the newly arrived settlers from Modruš came to Žminj and established the village of Modrušani.
ŽMINJ IN NUMBERS
The Žminj region had about 5700 inhabitants in 1910 and about 4200 in 1970. At that time there were 238 workers employed in Žminj, while around 700 of them travelled elsewhere. Modernisation and paving of the roads started in early 1970s towards Pazin, Pula and Rovinj. Žminj got its first paved road on 22nd November 1969, when the Pazin – Pula road opened. The local roads were macadamized until the 1980s, when road widening and paving began. In the book Žminj and Žminjština (1976) it is written that the Žminj region had 285 cars, which at that time was about one car per 15 inhabitants, while today every other inhabitant owns a car. During these years there were 245 tractors, 310 televisions and 725 radio receivers. Significant trade progress occurred in the mid-1970s, when there were already three grocery stores, two industrial goods stores, an agricultural store, fruit and vegetable store, a car parts store, agricultural machinery store, a newsstand and three inns in Žminj. There were also grocery stores in Modrušani and Cere. Žminj region developed significantly after Croatia got its independence, especially after the formation of the Žminj Municipality in 1993 and after the construction of Istrian highway "Ypsilon".
ŽMINJ HAS A "Lake of Love"
Klenovica or the "Lake of Love" is the largest pond in Žminj, which used to be the main source of water. It served as a watering place for livestock and for washing laundry and wheat. Ponds and areas around them were once the centres of social life. Many young men and women started their romantic relationships there. Žminj's oral tradition still keeps these interesting love stories alive. Precisely for this reason, Klenovica was called the "Lake of Love".
DO YOU KNOW WHAT "Laundry road" AND "The road of the dead" STAND FOR?
Next to the small Črnjava pond, there are preserved "perila", stone structures that local women used when washing their laundry. Because of this, one of the roads leading to the pond is called the "laundry road".
The locals living in villages of Šoštari, Gorenji and Dolenji Tankovići, used another road next to the Črnjava pond to transfer their dead to Žminj's cemetery, which was 4 km away. This road was used for this purpose until 1961. Hence, the road became known as "Put mrtvaca", "the road of the dead".